We speak to the director of Music & Clowns, which will be screened at Papaya Rocks Film Festival.
Your film will be shown at the inaugural Papaya Rocks Film Festival in London, what does taking a part in this event mean to you?
The first screening of Music & Clowns was at the Royal College of Art's private graduation event at the Genesis Cinema in June 2018. It will be nice to bring the film back to this important cultural venue. One of the few spaces in London that can support and nurture independent events like Papaya Rocks Film Festival.
Tell me a little bit about your work. How did this film come about?
This film demonstrates my brother's complexity as someone with Down syndrome. Jamie, despite his profoundly limited communication skills is probably funnier, more charming and more interesting than me. In conversation with him and my parents we explore the limits of what we can know about his inner life.
What was the inspiration behind your screenplay?
Jamie has been one of the biggest mysteries in my life. Throughout my life he has prompted me to think deeply about what it means to be conscious and what communication is.
What was the hardest scene for you to film?
Technically, it was very difficult to animate Jamie in 2D running down the road as an imagined fisheye lense rotates around him. Editorially, I had to be very careful how I represented my father's perspective on the pro-life position regarding Downs fetuses – because I think his views are both blinkered by love, good fortune and hindsight. I think if he was a first time father and saw the results of a 12 week scan that was 100% accurate which detected Down syndrome, he wouldn't know what to do.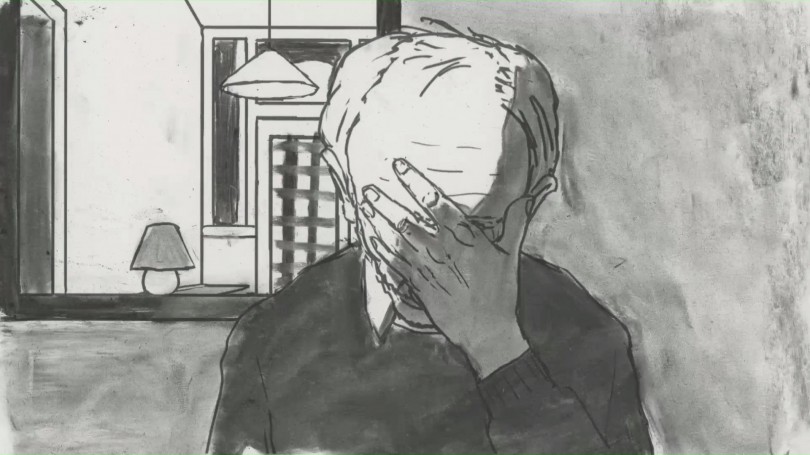 What were the biggest challenges you faced making this film?
This was a relatively easy film to make. 30 years research and full access to my documentary subjects helped a lot! I tried to push myself with the dynamic animation scenes, but most of the film is pretty relaxed.
Have you always wanted to be a filmmaker?
I've enjoyed drawing from a very young age. I didn't start animating until I was 19 though, but I've been thinking about constructing scenes from toys since I first owned any.
As a filmmaker how important is the collaborative process for you?
Supported by some assistance, I animated most of the film myself. The only exception was when I gave free reign to Emily Down – an animator with a knack for abstraction – who visualised the unknowable mechanisms of my brother's thoughts. Sound was very collaborative in this film, on top of the countless interviews I did with my family, Vicky Freud, who composed music and did the majority of the sound design, along with Adam Jones, who mixed it and helped create a dynamic space for the visuals to exist within.
How much has your approach to your work changed since your debut short film?
I feel I've had a quite consistent vision of promoting and exploring what animated documentary can be. I've gotten better at it.
Do you have any advice or tips for a fellow filmmaker?
I feel weird when I compare myself to others. I like to compete with my past achievements, always trying to find my own way, making it more exciting and challenging than before.
What are you currently working on?
It's too early to tell anyone. But it's going to be interesting.
What do you hope people will take away from your film?
I hope they realise that people like my brother have an enormous human worth. Even if they can't work and pay taxes they give other people strength and love.