We speak to the director of Yours Are Mine, which will be screened at Papaya Rocks Film Festival.
Your film will be shown at the inaugural Papaya Rocks Film Festival in London, what does taking a part in this event mean to you?
It is an absolute honour to have Yours are Mine in the Official Selection of Papaya Rocks Film Festival in London. I lived in London 10 years ago, and to this day it's my favourite city in the world. Coming back and visiting this incredible community of filmmakers is truly delightful.
Do you think nerves will set in closer to your screening?
I find the act of sharing stories with other filmmakers to be incredibly rewarding and liberating. Not sure I will be nervous as much as I will be excited to share my film, see other incredible films, and hopefully have many incredible conversations inspired by the films.
Tell us a little bit about your work. How did this film come about?
Yours are Mine is a story loosely based on my own life and struggle with eating disorders. In the past, I have struggled with telling stories that are very close to my real-life circumstances. But the older I get, the more I realize how important it is for an artist to use his or her pain, love, hardships and joy. Our own experiences are our greatest gifts as artists.
What was the inspiration behind your screenplay?
I have worked with and mentored young women for several years. Helping young women who are experiencing things that I went through in the past is a fascinating experience – especially in the era of female empowerment and support. But revisiting those memories and experiences when mentoring someone else can be incredibly triggering. I wanted to explore what it means to rise up and still be there for the younger generation – despite fighting through triggering circumstances and painful memories.
What was the hardest scene for you to film?
I thought the flashback scenes where we see Evin (portrayed by myself) fully in the rhythm of her eating disorder would be the most challenging. I was nervous and scared to portray these painful acts that I have worked so hard to step away from in my own life. We waited to shoot these scenes at the end of the day and that was a smart thing to do. I remember my heart racing, but it didn't end up being as difficult as I thought. I was surrounded by an entire crew of women that believed in this story and in these very specific moments. I give all thanks to the women on set that day – it wouldn't have happened without them.
What were the biggest challenges you faced making this film?
As this was such a personal story, I was determined to make it happen. Close friends and family supported me as well, but for the most part, I financed it myself. It was really difficult for me to invest so much time and money, but I'm incredibly proud that I opened my heart to it. Also, because it was so personal, I decided to write, produce, act and direct the film. I was very comfortable with all these roles, but in the future, I think I will bring on more producing partners so I can direct and act on the day of filming more freely. But again, the incredible team I had on set were fierce women that understood and believed in my vision and story, and they fearlessly attacked every step of the way. I was in absolute awe.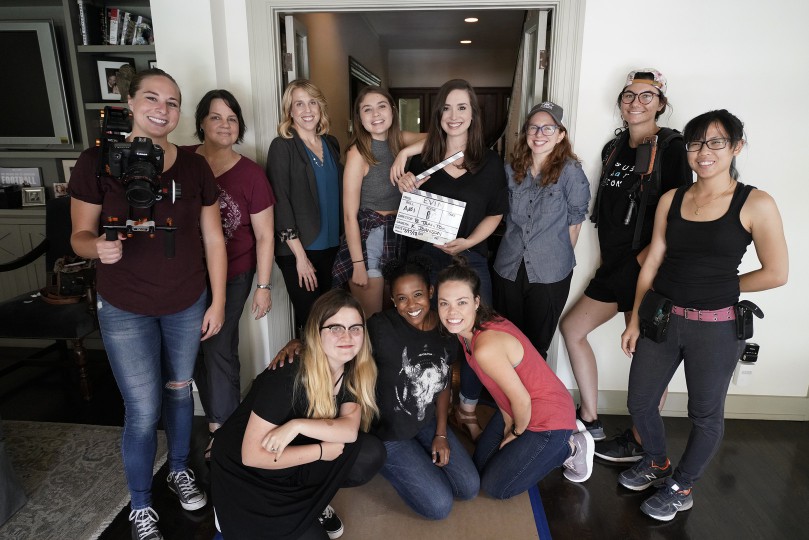 Have you always wanted to be a filmmaker?
I don't think I've always been aware of my desire to be a filmmaker, but it has always been a part of me. I used to make short films with my sister and parents when I was a child, and I forgot how much joy I had while creating and directing those. I think so much of who we are as adults is influenced by our greatest joys and struggles as children. For much of my adult life, I have focused on my career as an actor and forgot the joy that I had in creating – not only one character but an entire story. I'm incredibly grateful for friends and mentors who have encouraged me in the past several years to tap into writing and directing as well – I absolutely love wearing all the hats – as crazy as it may be.
As a filmmaker how important is the collaborative process for you?
Filmmaking is all about collaboration. At the beginning of our filming day, I gathered everyone around and said that my one desire was to make everyone's voice heard and appreciated. Because it was a smaller set, I encouraged anyone who had ideas or observations during the filming process to speak up and share – I love having so many sets of eyes and points of view that ultimately shape a story together.
How much has your approach to your work changed since your debut short film?
My first short film was about five years ago. I have learned so much about working with the camera, as well as how important the pre-production process is. But I think the most valuable thing I have learned is that as much as you plan for the day of filming, you actually cannot plan anything – you have to let yourself really be present on the set. That's where the truth comes from.
Do you have any advice or tips for a fellow filmmaker?
You just have to start writing every day. You never have to show it to anyone, but the more you write, the more you begin to find your voice. I still struggle with this, because I get worked up over what the "product" could be. The only focus should be on the dedication of process – the product will come naturally from that.
What are you currently working on?
I'm currently developing a few different short films with dear friends and we're continuing to focus on female-centric stories. I'm really excited about them and feeling incredibly inspired. I also want to get back on the course of writing more comedy, which will inevitably be more about my own experiences and stories.
What do you hope people will take away from your film?
As dark as Yours are Mine can feel, I pray that people feel a sense of hope at the end. There is no concrete way for anyone to receive help or support in this world, but I do think the more we show up for one another, the stronger and more resilient we become.