Block 2 (24-25.02.2021)
Absence of Light | dir. Beatrice Aliné / 2019 / Germany / 10' / short
Light protects us from our fundamental fear of the dark. But remember where there is light, there must be shadow.
Alexa | dir. Alexa Range / 2019 / US / 5'25 / documentary
A comedic and reflective documentary expressing the struggles of being named Alexa in a society where the Amazon Echo has come into existence.
Altitude | dir. Nicole Scherer / 2019 / Austria / 10' / short
For two alpinists the hike up to a mountain cabin turns into a life-threatening battle between reality and illusion.
Animal Habitat | dir. James Smith / 2020 / Germany / 1'1 / animation
Various wild animals are tragically losing their habitat caused by massive environmental destruction.
Arachnarche | dir. Emma Jordan / 2020 / UK / 3'57 / horror
A doll faces her fears when a spider invades her dollhouse. However, something far more terrifying lies beneath the surface.
Autumn Of Nations | dir. Cesare Saldicco / 2019 / Italy / 3' / animation
November, 9 1989: thousands of East Germans take to the streets forcing the gates in front of the powerless guards at the checkpoints; on the other side of the wall, the West Germans welcome their brothers with open arms.
Bagged For Life | dir. Patrick Swift / 2020 / UK / 6'15 / student film
Streetwise Jack finds himself facing eviction. In an attempt to provide for his family he takes matters into his own hands, however, things don't go entirely to plan.
Belong | dir. Dillon M. Banda / 2019 / Hong Kong / 7'6 / documentary
The movie follows Richard as he reflects on his life, his work and his legacy, with his thoughts and memories framed by lyrics from the 5 songs that have been most significant to his journey so far.
Company | dir. Karolina Krauss / 2020 / Ireland / 1'53 / micro-short
When shopping arrives to a self-isolating old lady, the delivery guy gets more than he bargained for.
Conversion Therapy | dir. Jenell Diego / 2017 / Canada / 7'30 / LGBTQ / documentary
Conversion therapy is the practice of attempting to treat homosexuality through the use of a variety of methods, the most common being shock therapy, nausea-inducing drugs and talk therapy. This short documentary explores the definition, history, results and legality of this controversial practice.
Corpo D'agua / Water Body | dir. Pedro Muyrakitan / 2020 / Portugal / 9'11 / experimental
A film that proposes to observe water and its states in a meditative way, proposing a deep dive into our own subjectivity, in the collective and ancestral unconscious, the dark cave that holds the greatest secrets of existence.
Dave's Catch Of The Day | dir. Jack Hartley / 2020 / UK / 2'30 . short
Give a man a fish and you feed him for a day. Teach a man to fish and you open the door to a world of curiosity.
Deep Dive | dir. Łukasz Klimczyk / 2020 / Poland / 6'35 / short
A young girl leave her lover and goes to spend her last hours over sea. As she arrived, she figured out love is stronger than any other bound.
Dialog | dir. Souvik Chakraboty / 2019 / India / 2' / experimental
The movie presents an intriguing communication through the soul of the streets, and the tireless workforce of the city of Mumbai.No Instruments were used in the making of this film. The musical short film infuses organic sounds into poignant melodies to tell a story in the form of lore. The film draws inspiration from the famous words of Plato: "Music and rhythm find their way into the secret places of the soul"
Dilo / Tell | dir. Susana Ramirez de Arellano / 2020 / Spain / 10' / short
Daniela is alone at home.
Grounding | dir. Oisín-Tomás Ó Raghallaigh / 2020 / UK / 8' / short
Sarah, a shy 15-year-old girl, finds the courage to open up about the abuse she and her brother have faced at the hands of their mother and the psychological consequences of it while attending an appointment at a children's mental health facility.
Hacked | dir. Erick Delgao / 2019 / Canada / 9'34 / short
Social media power couple perform a social experiment where they only communicate with each other via picture for 30 days. But on the day of the husband's return, what is originally seen as a cute display of love turns into a twisted horror show.
Hip-hop in the Islamic Republic | dir. Jordan Woodgate / 2020 / UK / 8'34 / documentary
Omid draws on the ancient Iranian poets, such as Hafez - a nod to the foundations of Persian spoken word and to show a love for his country. He is forging a new narrative and is one of the most prominent alternative voices of the modern Iranian generation.
Hound | dir. Liam Fouracre / 2020 / Australia / 9'56 / short
Elijah, a son haunted by his past, travels the long distance to his fathers remote and isolated camper-trailer in the countryside. His arrival is too late, as he discovers his father has been devoured by his own solitude.
Jak długo / How Long | dir. Łukasz Ruciński / 2020 / Poland / 2'16 / documentary
A one-shot documentary made during the coronavirus pandemic.During lockdown, cardboard boxes with the words "we can do it" or "we want tests" appeared in Warsaw's windows and on balconies. Their author is the artist Paweł Żukowski.
I'll Have An Offer | dir. David J. Adams / 2020 / UK / 7'50 / dark humour
A short visual poem, exploring the pushing aside of ingrained habits we have erected to manage our lives, often with others. The reaching out for something new and different. Debating past results and looking for a possible more purposeful outcome.
Imagine | dir. Laura Leigh / 2020 / Canada / 2'45 / short
Lonely in isolation, a young girl finds a friend… and hope. Shot in Barrie, Ontario, on an iPhone 11 with the director's niece and family as support.
In A West End Town with Western Girls | dir. Gary J. Hewitt / 2019 / UK / 6'16 / drama
A female assassin has a showdown with an unexpected target in this neo-western. Written, filmed and edited in two days.
Inglitrompet / Angel's Trompet | dir. Martinus Klemet / 2019 / Estonia / 2'26 / animation
Inspiration for the film came to the director from the plant Angel's Trumpet (Brugmansia). One of its many breeds can be pollinated solely by a very long billed hummingbird. Only this bird is able to reach the core of the blossom and drink the flower's nectar. It took millions of years of evolution to develop such cooperation between the bird and the plant. The creator was amazed by this interesting synergy and thus played with the idea of imagining what could be the next step in the evolution of hummingbirds.
Insurance Priorities | dir. Diogo Abrantes / 2020 / UK / 1' / micro-short
It's funny that when you buy car, you get an insurance immediately. But for your Health, you rarely get one.
NOX | dir. Mateusz Zieliński / 2019 / Poland / 4'48 / student film
A woman trying to find herself in reality after losing a loved one.
O mar já não pára aqui / The Sea No Longer Stops Here | dir. Pedro Augusto Almedia / 2020 / Portugal / 8' / documentary
Caldeira, Sado estuary. A clam picker and his friend spend the morning collecting up the bounty of the tide. The day is full of surprises.
Old Flame – A Super 8 Story | dir. Spencer Hetherington, Jesse Ricottone / 2020 / Canada / 5'45 / drama
A young man learns the hard truth that holding onto an old flame hurts more than letting go.
One | dir. Shaun Hume / 2019 / Australia / 1' / experimental / micro-short
One year, in one life, in one minute.
One Left | dir. Sebastian Doringer / 2020 / Austria / 6'12 / animation
Several patients are waiting in a doctor's office to hear test results regarding their remaining lifetimes. In most cases, the allotted time is not as long as they had hoped for.
Other Plans | dir. Caleb Yule / 2019 / UK / 4'46 / documentary
An ode to patience and peaceful shores, this portrait of fisherman between the lines documents the all but fruitless attempts of anglers in their search of a catch.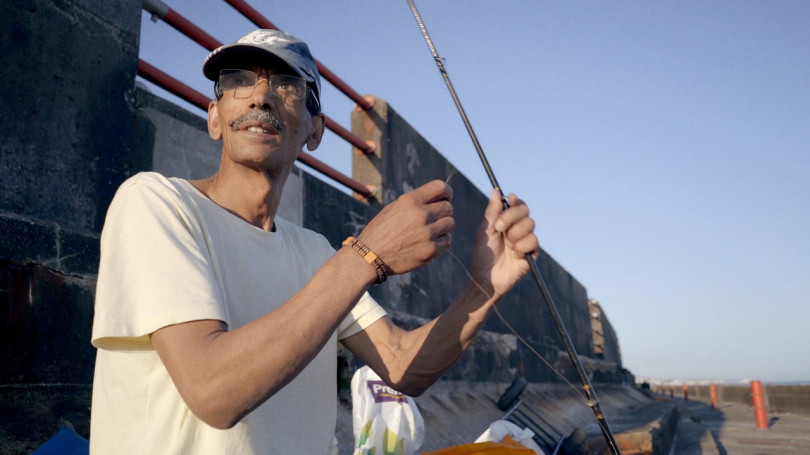 Oxíeno / Oxygen | dir. Luis Murillo Arias / 2020 / Spain / 3' / documentary
Marta soon told her boyfriend what was happening to her. He has a degenerative and incurable disease that requires a lot of treatment time in physical exercises and drugs. It conditions her life in all aspects: work, personal, social. How can you live with that burden? Can you be happy?
Pani Doctors – Join The Sisterhood of Water | dir. Katalin Ambrus / 2019 / India / 9'43 / documentary
The Indian slum Khara Kuaa transforms into a colourful theatre stage as Rekha Devi, Zeenat Begum and their neighbours unpack the scientific water test kit. An educational musical developed in collaboration with the women from two slums in Jaipur, who participated in a hydrogeological model project.
Paper Dreams | dir. Zack Kron / 2019 / US / 1' / micro-short
A young boy learns the secrets of life from his grandpa.
Paternidad / Paternity | dir. Vincente De Ramos / 2020 / Spain / 5'35 / drama / LGBTQ
Julián is lucky to be a father. Unlucky to be a widower. It's never been easy. Nor will be.
Pillimpo | dir. Rafael Montezuma / 2019 / Spain / 5'57 / documentary
Pillimpo, a self-taught sculptor with a style that falls between Kitsch and Art Brut. Through this piece, we are invited on a journey under the microscope towards the invisible and the subtle of the human cosmos; as the theory of Hermes Trismegisto states it: "As above, so below, as within, so without, as the universe, so the soul..."
Plague | dir. Lydia Frost / 2020 / UK / student film
A short comedy that follows four university students as they struggle to complete a group assignment via zoom calls.
Polter | dir. Álvaro Vicario / 2019 / Spain / 10' / short
José faces a paranormal event that breaks into his home. As he fights for his life against the supernatural powers, Jose will have to discover the secret behind the phenomena if he wishes to regain control of his home.
Proof | dir. Nora Jaenicke / 2019 / US / 10' / short
Iman is on a student visa and just returned from a trip to see her family. After being together for 4 years her and her boyfriend Evan get engaged and are planning to get married. However, during an interview with an immigration officer, Iman's world is about to collapse. The immigration officer is suspecting her of immigration fraud. He is asking her to present "material proof" that she is entering the marriage with a US citizen "in good faith". Some of the proof that she is being asked to provide would reveal details that not even her family knows. And what Iman considers the most important proof would make her family either kill her or have her killed.
Proving Ground | dir. Phoenix Almeida-Amir / 2020 / UK / 5'35 / animation
A large prototype robot has killed its test pilot and roams through a proving ground, controlled by its AI.
Quarantined with a Ghost | dir. Justin & Kristin Schaak / 2020 / US / 5' / comedy
During a global pandemic, a woman is quarantined to her home with a ghost for a housemate.
Reaching for Sunlight | dir. Franki Furnell / 2020 / Australia / 3'3 / student film
Like a plant fuelled by sunlight, twelve years old Florissa is fuelled by academic praise. But when you're convinced that you're the classroom's brightest shining star, what happens when someone dims your light?
Renacer / Be Reborn | dir. Augustín Domínguez / 2019 / Spain / 4'23 / drama / LGBTQ
Growing up, we girls are taught to colour within the margins someone drew for us. We are taught to say yes even when we want to say no. We are taught stay in the smallest place we can find.
Resurrection | dir. Sabine Crossen / 2019 / France / 10' / drama
Max had everything then he lost his most precious possession and life was no longer worth living. After months of dwelling in the streets an encounter with an odd barman who treats him with kindness changes his look on life.
Riot in the Meadow | dir. Thomas Harman / 2019 / UK / 8'44 / documentary
A short documentary about the life of artist Vicky Hawkins.
Sachiko | dir. Miguel Esteve / 2020 / Spain / 5'35 / short
The movie tells the story of a writer down on his luck in search of inspiration that allows him to find his own voice. The adventure will take place halfway between Japan and his imagination.
Senseless Searching | dir. Kiril Novokshonov / 2020 / UK / 2' / micro-short / student film
A man suffering during quarantine starts to believe a philosophy that slowly destroys him.
Shut the F**K Up | dir. Emma Tilbrook / 2020 / UK / 1'45 / animation
A young woman is tired of the endless talking from her date. She fantasies about ways to shut him up, however fantasy is not reality.
Sin Filtro / No Filter | dir. Manu Montejo / 2020 / Spain / 4' / short / comedy
After shopping in the city center, two friends get meticulously ready to make a "story." It seems one more, one more day... However they are in the right place, at the right time ... Or so they believed.
Sleepwalker | dir. Andrea Yu-Chieh Chung / 2019 / US / 9'2 / documentary
In 2014, the Sunflower Movement took place in filmmaker Andrea Chung's hometown, Taipei, Taiwan: Students and activists occupied the parliament in protest of the government signing a trade deal with China. As a high-schooler, Andrea experienced the Movement but did not make the effort to understand its meaning and consequences. Half a decade later, while living thousands of miles away from Taiwan and feeling homesick, she happened upon archival footage of the protest through a documentary, which forced her to confront her complicated feelings.