Block 3 (26-27.02.2021)
Best Bitches Forever | dir. Valérie Leclair / 2019 / Canada / 5'30 / short
After Alex wanted to surprise Catherine for her birthday by taking the staff of a restaurant hostage, the two unrepentant and hot-tempered women argue about how to use their meta-psychic powers.
Bill in the Booth | dir. Daniel Christophersen / 2020 / UK / 4'45 / student film
Bill is single at his best friend's wedding. The only single person. And he's totally fine with it. Honestly.He's definitely not going to take over the photo booth, get really drunk and cause a huge scene. Is he?
Black Lives Matter | dir. Ashna Sharan / 2020 / US / 7'46 / drama
Made entirely by a group of all BIPOC women, the movie tells the story of three lives intertwining on one ordinary June afternoon. Three different perspectives: Priya dealing with unemployment, Grace struggling with current events, Rita working on her next hit song. This film was made in quarantine and everyone contributed remotely to follow the stay-at-home order.
Blue Room | dir. Kate Cheesman / 2020 / UK / 6' / short
Lisa wakes up in a strange room from which she cannot escape. A short film about recovering from grief.
Breakfast Tea | dir. Jennifer Piper / 2020 / Australia / 3'27 / short
What's not to love about being woken before dawn by your neighbour's power saw?
A story about busy neighbours, early birds and worms.Scripted, shot and edited in 24 hours during social lockdown. Take care of your neighbours.
Bube maises | dir. Or Levy / 2020 / Israel / 6' / animation
Yaffa is a 80 years old woman who live in a nursing home and has dementia. the dementia causes her to live her childhood again. At that time, her dad who was a business man was traveling the world and sending her postcards from every country he visited, and she imagined her with him in his adventures. at the end we find out that her daughter, Miri, is forging Yaffa this postcards today to keep her mother happy.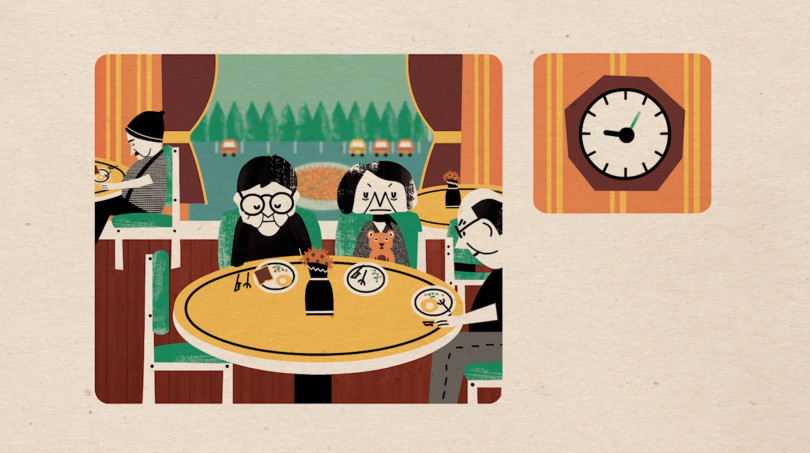 Burn | dir. Shubhi Sahni / 2020 / Canada / 2'15 / documentary
Shot on an iPhone in isolation, a filmmaker paints an intimate portrait of her relationship with anxiety.
Can I Have A Word? | dir. Connor Higgins / 2020 / UK/ 1'42 / experimental / micro-short
This is the first chapter of a three part project, created alone during the coronavirus lockdown for Connor Higgins's experimental university project.
Carving in Memory | dir. Rubén Seca / 2018 / Spain / 4' / student film
A story about personal and collective memories told through sculptures.
Dog Days | dir. Stephanie Chan / 2020 / US / 2'17 / animation
A playful yet naughty dog tries to get his human's attention any way he possibly can.
Domō Arigatō, Mr Roboto | dir. Aimee Robinson / 2020 / UK / 5' / student film
Kyle, is a 24-year-old who is stuck feeling lost and is struggling to find the motivation to feel better. However, he can't disguise his sadness anymore when his mother brings home Andy, her new sex robot. Andy's visual sensors detect Kyle's depressive state and due to Andy's insistent pestering, Kyle is forced to accept his help.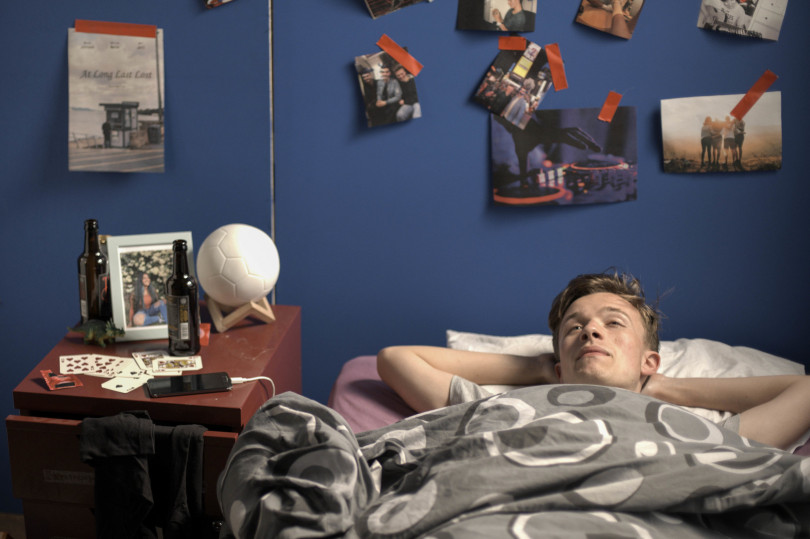 Dreams | dir. Berlin Odabasi / 2020 / Turkey / 5'53 / animation / stop motion
A middle-aged housewife suffers from housework and her irresponsible husband. One day, overwhelmed by all this, she makes a decision. She buys a wishing wand that she finds on the internet with all her money. According to advertise The wish wand has the power to change everything. The wishing wand is shipped immediately. As soon as she takes the wish wand in her hand, she realizes that it works, she is happy for it. Thanks to the wishing wand, all the work of the house is magically finished. She realizes that the wish wand works for housework and is happy with the result. So that she think about to change her husband using the wish wand. While trying to turn him into a thoughtful romantic sensitive person, things are not what she hoped.
Dudillas / Doubsts | dir. Pedro Rudolphi / 2019 / Spain / 5'42 / comedy / LGBTQ
Mari Carmen visits Rosa, her prostitute friend, after a weird encounter with a common friend. Mari Carmen needs Rosa's advice… but that's not all she needs.
Echoes | dir. Diana Acién Manzorro / 2019 / Spain / 5' / animation
The movie tells the story of a factory depressed worker who suffers an episode of dissociation.
El arbol ya fue plantado / The Tree Has Been Planted | dir. Irene Biel / 2020 / Argentina / 6'53 / animation / music video
Planting a tree has a simple and direct objective. Whoever complies with it will be able to see it grow and then enjoy its shadow. You will enjoy its perfume and the song of the birds sheltered in its branches.
El hombre due Luca vio llover / The Man Who Never Saw The Rain | dir. Miguel Muñoz / 2020 / Spain / 2' / animation
What if you've never seen it rain?
Electric / Electrique | dir. François le Guen / 2020 / France / 4' / short
A man with both legs amputated dreams of walking again. Annoyed by the permanent motorisation of pedestrians, he embarked on a race with the worst representative of this mode: an electric scooter.
Elle/Él | dir. Elliot Huescar / 2019 / Spain / 9' / short
At the wheel of his red Alpha-Romeo of the 60's, Él, a Spanish male, sexist and married, picks up Elle, a young French hitchhiker, not as innocent as she seems...
Empty Feet & Fireflies | dir. Benjamin Meads / 2020 / UK / 8'21 / documentary
Bringing together the salvaged remnants of an unrecoverable part-installation, part-improvised narrative film project, the work is the result of an assemblage of images; portraits of real people living in different places and timezones, shot over a year of study in the UK, Oceania and South-East Asia.
Enemy? | dir. Kimberly Tudó Sánchez / 2020 / Puerto Rico / 59'' / animation
A creature finds other strange creatures on an unknown planet. This creature has friends that come in times of need. They don't know who can be an enemy on this planet so they protect each other. They might think that some creatures are good and others aren't. But who knows if these creatures are the enemy.
Estaba cantado / Jackpot | dir. Cristian Casado, Dennis Gleiss / 2020 / Spain / 7' / short
Tragedy strikes when a couple wins the Lottery, neither of them ready, but some would say eager, for what comes after.
Interferencias / Interference | dir. Alberto Pardo / 2020 / Spain / 2' / short
Interference in a girl who covers her ears to prevent the passage of horror. Interferences in a growing hell for mothers and children, even more so now, confined. There is another virus that was here before.
Into The Night | dir. Thibaut Buccellato / 2019 / France / 6' / short
New insomnia for Lucas. He decides to go out into the deserted streets of New York and finds himself on the edge of a subway platform. He sees a woman looking at him. Who is she? And most importantly, why does Lucas seem to want to end it all?
iRony | dir. Radheya Jegatheva / 2018 / Australia / 7'53 / animation
A film that explores the relationship between man and technology...told from the perspective of a phone.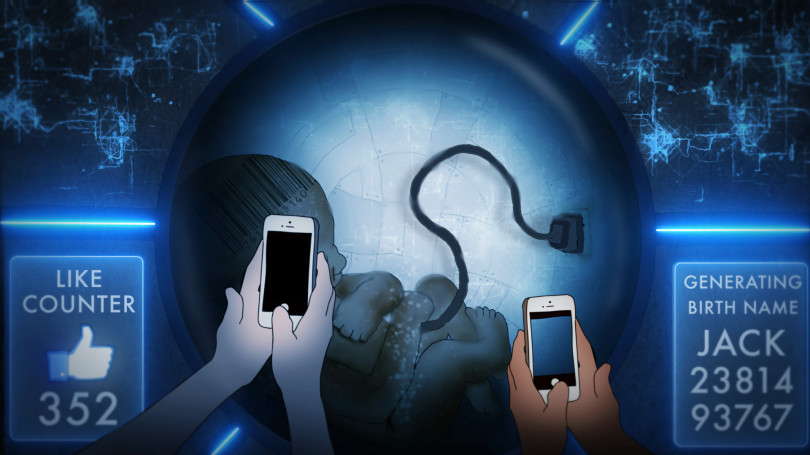 Isolated | dir. Yana Riahi / 2020 / Israel / 2' / micro-short
A couple separates during quarantine period, but new possibility can appear at the end of epidemic.
It's Desmond (Your Misguided Tour Guide) | dir. Daniela Di Salvo / 2020 / Canada / 5'45 / short
In a world of disingenuous wanderlusters, the movie seeks to reveal the truth behind world travel.
La libertad / Freedom | dir. Marcos Sastre / 2020 / Spain / 4'22 / drama
A middle-aged woman is trapped in routine.
La Prophétesse / The Prophetess | dir. Marco Joubert / 2020 / Canada / 2'20 / experimental
Drawing from the observations, experiences and thoughts gathered throughout her life, the prophetess, in a surge of hope and altruism, shares her conception of a world which should have been, could or will be: a manifesto, for a fictitious or latent generation The text is freely inspired by a Francis Ponge poem, The Law and the Prophets (1930), reinterpreted and rewritten to better anchor it to the contemporary context as well as to the director's own ideals.
La voluntad / The Will | dir. Eduardo & Guillermo Dieste / 2020 / Spain / 5'17 / short
An interior, formless, close and powerful presence contemplates us and speaks to us making humanity advance at all times.
Lairs | dir. Emma Penaz Eisner / 2020 / US / 1'36 / micro-short
Lairs, layers, liars: In this poetry film, hatred insidiously supplants a couple's love.
Lake Fishing | dir. Pepe Sapena / 2018 / Spain / 8' / short
A quiet lake with some fishermen. Everything seems to be fine, until Candela and Marina appear. They have come here to say goodbye to their father. After scattering the ashes the two sisters must face a new obstacle: their past.
Leo y Alex en pleno siglo 21 / Leo & Alex in the middle of the 21st Century | dir. Eva Libertad, Nuria Muñoz / 2020 / Spain / 6'53 / short / LGBTQ
Alex wakes up in his bed after a night of partying. Next to her is Leo, her roommate, who doesn't remember how she ended up there. As of this morning, nothing will be the same between the two.
Leonardo Frigo – Ink Artist | dir. Daniele Andronico / 2019 / UK / 3' / documentary
Leonardo Frigo is a London-based artist and violinist whose passion, innovation, and innate creative talent have all earned him the reputation as a celebrated visionary within the United Kingdom's thriving art community.
Les Égoïstes Anonymes / The Selfish Anonymous | dir. Guillaume Caramalle / 2019 / France / 3' / short
In this group of words where the participants try to free themselves from their egoism, Alice does not look at her place...
Little Ones | dir. Isaac Fisher / 2020 / UK / 1' / micro-short
Two friends, on the eve of the rest of their lives, try to find answers to the some of life's hardest questions.
So It Goes | dir. Arjan Brentjes / 2019 / Netherlands / 1' / documentary
In this one-minute documentary Arjan Brentjes takes a side step from his ongoing animation work to tell a little family story.
Sorry, Guys! | dir. Diogo Abrantes / 2020 / UK / 50'' / micro-short
COVID pandemic made the sexual life of all single people in the planet more complicated. Curiously, during this period, female sex toys became best sellers all over the world.
Soy Sauce | dir. Sarnt Utamachote / 2020 / Germany / 4'45 / short / LGBTQ
Marriage, especially between LGBT+ persons, becomes the most common means to secure one's place i.e. one's "possible future" in another country. However, the inequalities and the conflicts of powers can be found in their private sphere.
Stay Home, Stay Safe, Stay Sane | dir. Nick Hales / 2020 / UK / 59'' / animation
The decline of a worker over lockdown caught in just 60 seconds. A story that may, or may not echo the director's days of the Covid pandemic in front of the computer screen...
Strange | dir. Cameron Carrr / 2020 / UK / 2'49 / student film
An autobiographical story told in a visual journal style, a glimpse into an autistic author's life exploring friendship, trails and the use of unique coping strategies.
The Actor | dir. Bernard Sissay / 2020 / UK / 10' / short
An aspiring actor receives some bad news but is he willing to do whatever it takes to get what he wants.
The Bench | dir. Natasha Kinaru / 2020 / UK / 3'34 / short
The sight of those memory engravings on park benches always made the director wonder of people behind them. What kind of story did th
The Centreline 中心線 | dir. Elliot J. Spencer / 2020 / Australia / 6'28 / experimental
The story of a Martial Art novice under economic and social pressure to abandon his dilapidated fishing village and move to a first-tier City.
The Community | dir. Peter Engelmann / 2020 / UK / 7'42 / short
A girl prepares for a very important event, while takes part in a strange online community. Do we have any idea what is going around us?
The Cordon | dir. Müntekim Gerginok / 2019 / Turkey / 8'20 / short
At the lakeside, a man tries to catch some dignity...
The Creek – Lethe | dir. Ebba Jahn / 2020 / Germany / 2' / poetry
A video based on poem "Lethe", the river in the underworld of Greek mythology - those who drink of its water lose their memories...
The Interview | dir. Ross Page / 2020 / Australia / 3'24 / short
A hopelessly phone obsessed young woman attends her first job interview at a prestigious Japanese firm. With each new notification, comes an uncontrollable desire to check her phone.
The Killing of Time | dir. Neil Murphy / 2020 / Spain / 5'55 / documentary
Shot during the COVID-19 confinement in Spain, a reflection on the situation from a philosophical viewpoint.
The Next Boat | dir. Luke Naylor-Perrott / 2020 / UK / 3'59 / student film
The story of 'M', who decided to build a boat. 'M' also happened to be, at the time of filming, a resident of the Vial Refugee Camp in Greece. He was given a safe space to build his boat and learn English by CESRT. The story of 'M' is only his to tell - this is just the story of his next boat.
The Red World | dir. Sophia Raiston / 2020 / Switzerland / 8'31 / sci-fi
In a not so distant future, global warming will have increased exponentially over the years, making the majority of land on earth uninhabitable. Humanity faces a climate apocalypse but the media is giving hope for a utopian recivilisation on Mars.