We asked Eduard Micu—one of the finalists of Papaya Young Directors international contest—about taboos in his works, difference between directing comedy and drama, and the source of his inspirations.
Papaya Young Directors is the only competition for young film directors in Europe that facilitates direct access to the professional world of filmmaking. Up until now, there have been six editions of the competition, with 96 films made for 45 sponsors. HERE you'll find the information about the competition.
HERE you can find a Polish version of the article.
You're a Romanian filmmaker based in the UK, and you're making a commercial that is slightly mocking the traditions of the Western, Americanized culture. As a young director, what is your background?
I moved to the UK at the age of 19 to study film at the Norwich University of Arts. I was a poor student with 2 jobs and debts who wasn't having enough sleep. Most of my fellow students were partying on Friday and Saturday nights, while I was collecting glasses in clubs or serving tables at a Chinese restaurant. I must admit that it was a hard time for me, which led to dire consequences. It was not an affordable lifestyle and I did not get a break for years. It was a constant hassle. However, I have completed my studies and blended into English society well. Ten years in another country will change you and you will notice that one day when you visit your home country and feel like a stranger. It was a huge risk to study film, but I always went with the flow, as I don't feel too great in comfort and stability. I like a bit of chaos and chase, I am used to a roller-coaster of events. I was lucky to live in the same house as a Romanian music producer. Connections are particularly important to get you into the industry. So, I did a couple of music videos with him and I semi-regularly attended the film course as I preferred to do side projects. They served me well. I am not advising others to do what I did but I had more material for my reel. And I was never a fan of doing student projects. They were difficult to make, everyone wanted to be a director and egos conflicted all the time. I played it safe, I studied post-production filmmaking. I preferred to be on my own, putting the shots together with no outside interference. This is where the magic happens, where the mistakes are fixed, and the film comes to life. Then I started directing my projects, knowing what I needed for the post. But it was always stressful and I had to deal with a lot of pressure, people not showing up, etc. That is the reality of self-funded projects. Anger, disappointment, conflicts, ego, and stress, but you learn a lot. It is important to keep doing it, stick with it, and never give up. Even if you feel like never making another movie again, it is probably just a sign that you need to take a break.
I am "fortunate" to experience tension, anxiety, and fear for free regularly so I do not need to watch horror movies.
Your film is based on a common insight that sex is still a taboo, and we're all trying to prove something when it comes to talking about it, or even when just buying condoms. Could you elaborate on this concept?
I don't know how it works for teenagers these days, but I assume that they are a lot more informed and that they look at things differently then I did in the early 2000s. It is an issue of demographics as well, and culture has a huge impact on people. Now teenagers are different. When I was a teenager, I was nervous, shy and girls seemed scary to me. We did not have the internet until years later. We are talking about a country that was rebuilding, as it just escaped from Communism. We were teenagers living in a newly democratic country, brought up by parents that grew up in the communist era. So people were more reserved about certain subjects. As a teenager, I found it very embarrassing to buy my first pack of condoms. So I assume that there are shy and reserved teenagers in any generation. My character was built around that idea. Some people are incredibly open about certain things, and others have a different approach. Some people learn and change, others are very stubborn and strict. At that age, it is a big deal to buy your first pack of condoms. And when you buy them, you know that people know what they're for. You are growing up and changing. Sex is something new. Sex is not taboo for adults, but it is for teenagers. And the more you do certain things, the more they become normalised for you.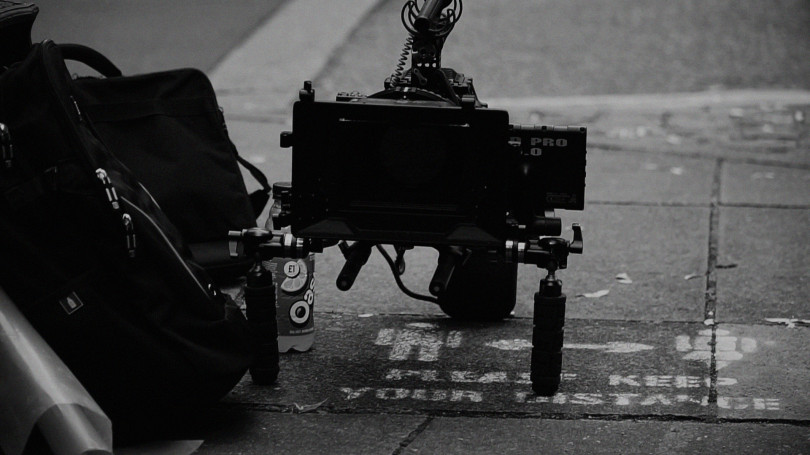 It seems that dark comedies with a pinch of irony are your thing. Are you more eager to write and direct a comedy than a drama?
In the past, I was more passionate about social realism, so I did my first films about the sad reality around me. My first short film was awarded in the USA and Europe. I had a good response from the western audience, but I received negative comments from Romania. Romanians are fed up with the drama, it has been a part of their life for too long. If you look at history, there was always chaos and drama. Romanians want something positive; they want something to look forward to. I spent so much time going too deep into the meaning of life, I dealt with a lot of stress and I've been on the verge of mental collapse too many times. That led to a severe anxiety disorder. I am "fortunate" to experience tension, anxiety, and fear for free regularly so I do not need to watch horror movies. I found myself wrapped in nihilism. What saved me was comedy. Dark comedy. This is what people need sometimes, a laugh. A break from reality.
Comedy is a difficult genre. It is difficult to write comedy, and what makes us laugh is changing all the time. When you are a baby, some funny noises will do it for you. But later on, it's a tragedy that makes us laugh.
What inspires you the most? Do you have a list of directors you look up to?
It was Darren Aronofsky that inspired me in the early stages of my filmmaking, with his Requiem of A Dream and Pi. As much as I like comedy, I need my dose of suffering sometimes. I am not a huge fan of clean, perfect shots. I like a bit of grain and imperfection. More than anything else, I concentrate on the story and the characters, the philosophy, and depth behind them. Obviously, the way a scene looks is particularly important for inducing emotions. Also, Martin Scorsese and his Taxi Driver inspired me more than any other movie ever made. I loved the documentary feel to it and its realism. That is when I started to feel passionate about social realism.
But since developing my anxiety disorder, which I live with for 5 years now, I adapted, and now I find that comedy is more convenient for me. Comedy is a difficult genre. It is difficult to write comedy, and what makes us laugh is changing all the time. When you are a baby, some funny noises will do it for you. But later on, it's a tragedy that makes us laugh. At least, "us", as in "us twisted people". I am looking at Seth Rogen, Seth MacFarlane, Ricky Gervais, Charlie Brooker, BoJack Horseman, Rick and Morty, and a long line of stand-up comedians. Comedy best serves the working class and the financially challenged. That is where it is most needed. It is medicinal to laugh at our own misery. It keeps us going. I would love to tickle the mind and there is no reason not to combine something that helps exercise the brain with something that enriches you with "happy" chemicals.