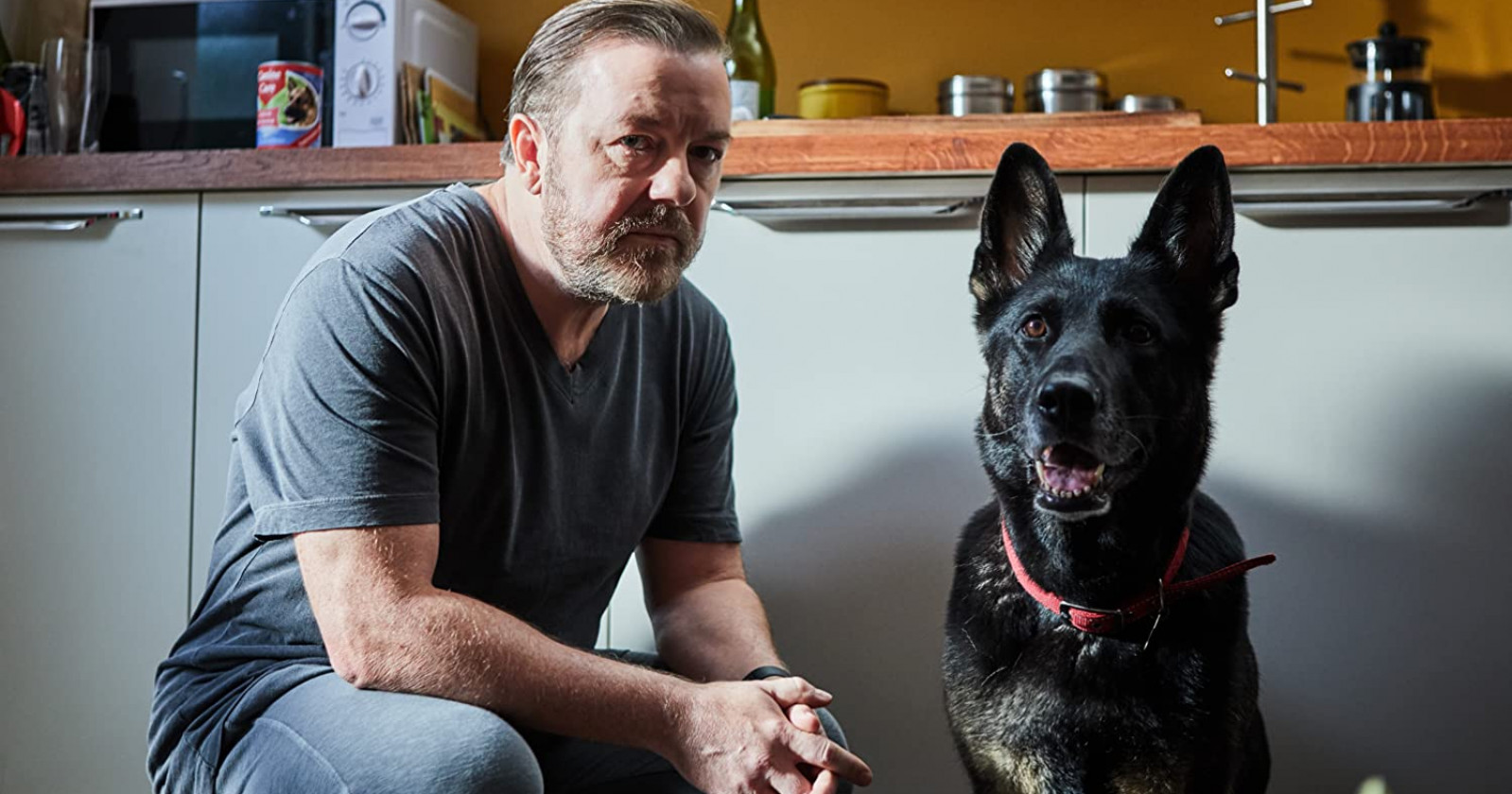 People |
Ricky Gervais: The Ultimate Joke
06.05.2020
After watching Ricky Gervais' monologue opening the latest Golden Globes ceremony, it's easy to see that he has never been a fan of celebrities, awarding trophies, and the special treatment resulting from stardom. He cleverly used his introduction to transform it into the concise roast wherein he orders actors to receive their awards and not to talk about the issues they haven't got any particular idea of (politics, economics, global warming). Even though the camera catches Tom Hanks' confusion, the rest of the audience is laughing like never before. De facto – from themselves.
It's only one of a few controversial actions which this unruly foreigner serves to the snobbish Hollywood. This situation, full of undisputed cynicism, grotesque and frivolous joking from other people, though real, looks like out of Gervais's comedy tales. They have been accompanying us in different forms for almost twenty years but still, all of them are marked by the characteristic, insolent style which is impossible to imitate. Recent samples of Ricky's skills are don't only manifest themselves through speech and golden thoughts smuggled in talk shows. They are also present in two seasons of Netflix series After Life – dark history of a man who loses his wife and every day wakes up with a question if his life is still worth living. A universal theme, surprising humour, and numerous positive reviews resulted in Ricky Gervais being named – not for the first time – a "genius".
After Life seems to confirm that the abilities of this Briton do not limit in sarcastic jibes.
Gervais has an exorbitant career full of various projects mostly blazing the nonstandard traces. In his profession, Ricky could have been called a specialist for a long time, and After Life seems to confirm that the abilities of this Briton do not limit in sarcastic jibes. We often forget that he (together with Stephen Merchant, his longtime collaborator) has created the original, British version of The Office, and that for years Gervais has been running popular radio broadcasts (later converted into the series of podcasts and animation), plus, once in a while he professionally works on bright and piercing stand-up. Gervais' career is surprising not necessarily due to the number of diverse works but because of his versatility – all in all, he's a winner of the Golden Globe and eight BAFTAs. Nevertheless, the beginning of his career is not strictly connected with film or television. Before diving into this specific business, just before graduating from university in the 1980s, he created his new wave duo. Seona Dancing consisted of Gervais and his friend from college – Bill Macrae. They managed to record two hardly recognizable singles (with music videos as well), eventually, in 1984 each of them went their own way. When in 2014 Jimmy Kimmel asked him about his former bandmate, Ricky answered in a typical manner: "I hope he got fat, too." Until today music is one of the most important elements in his life, something that Ricky repeatedly emphasizes – for example by praising David Bowie's career (with whom he cooperated) or Lou Reed. Interestingly, he also mentioned being the manager of Suede (which unfortunately didn't achieve any success during his cadence). Musical experiences resonate through the selection of soundtrack in Ricky's productions; such as the one in After Life.
To understand the topics covered in most of his works we have to step back into his adolescence; specifically, to the university period, when Gervais changed his planned career of a biologist into the philosophy course at University College London. The question about the meaning of life started to sprout in him: Gervais was interested in the existence of a higher power (or its absence), he was also trying to examine why exactly social and professional injustices should be concerning for society. That is why later on he created David Brent, the British head of a corporation, a self-righteous hypocrite and also progenitor of Michael's Scott character, best known from the American version of The Office who a few years later was portrayed by Steve Carell. In the British prototype Ricky Gervais goes there all the way, he illustrates oppressed employees of the small office belonging to one of "Wernham's Hogg" (huge corporation) branches. Brent often terrorizes his workers and what is worse, he does it unconsciously. Focused on his benefit Brent frequently leads to a lot of embarrassing situations. He becomes a symbol of demythologizing corporate's dream. According to Gervais, the eponymous office does not appear in any way as a dream factory for young and ambitious people. It looks rather as a hermetic, inhospitable place which will become a kind of limitation for every worker. This extraordinary boss can be also found in David Brent: Life on the Road (2016). He gains a musical element there; Gervais sings exuberantly, plays with his role, and portrays an unfulfilled, middle-aged singer.
After The Office, Ricky has worked on the series Extras (2005-2007) which deconstructed another myth – the beginnings of the fame-hungry, aspirant actor. He personates Andy Millman, the extra who would do literally anything for even a few seconds on the screen. The actor, constantly cut out from films and series is not going to give up. His even bolder actions turn upside-down the lives of a film crew. For this reason, Andy repeatedly must look for new employment. Gervais presents actors' community, their innumerable pathologies connected with the authority of executive producers, and how they're only paying close attention to profits and not the actor as individuality. Ricky invited quite a few Hollywood names to work with him. Such stars as Kate Winslet, Ben Stiller, Samuel L. Jackson, Robert De Niro, or Ian McKellen are playing exaggerated versions of themselves who are confronted with the beginning amateur (the main protagonist) – the final effect turns out to be more than comic.
Stephen Merchant, his longtime collaborator in one of the interviews recalled that writing with Ricky Gervais appeared to be a real challenge.
Sitcom template remains practically unchanged towards The Office – by using grotesque Gervais creates another successful black comedy full of (un)funny gags and inappropriate jokes (which are sometimes even hard to believe in). When it comes to the creative process, previously mentioned Stephen Merchant, in one of the interviews recalled that writing with Ricky Gervais appeared to be a real challenge: "We used to work at his house and there were far too many things there. Do you remember Paul Daniels having a tea party with some monkeys? That's what Ricky's like. You'll be saying 'OK, we're getting on to something now' and you'll look round and he's hanging from a tyre. We've learned to strip away the distractions."
Gervais is also the creator of the series Derek that touches on the occurrences of a nursing home employee. Primarily, it is a confrontation with our weaknesses: minimalistic episodes are clearly showing how significant struggling with human imperfections could be – in this case, concerning health. We also can't forget about Life's Too Short; peculiar mockumentary where the first violinist is Warwick Davis, popular actor (Willow, Star Wars) characterized by his small height (merely 107 centimeters). In this short series, actors are considering the problems related to everyday hardships as Warwick's figure "refuses to live his life as a disabled person". Charismatic and filled with distance, the series is full of scenes (like the one with Liam Neeson) that haven't aged at all; they cling on to the border of controversies and correspond to the author's dry sense of humour.
In 2008 Gervais appeared in a comedy called Ghost Town which brought up a subject of loved one's death. A few years later Ricky decided to turn his writing to a similar problematic aspect himself. In 2019, After Life had its premiere, in which Gervais makes vivisection of losing his loved one and uses cynical bitterness to present a specific escape from memories and the whole past. It's a phenomenally played series where both dialogues and thoughts of the main character can force the viewer to make the emotional considerations. Nothing there is black and white; as it happens, the definition of sadness (and happiness) is edited by Ricky and significantly modified. After the first season's premiere, Gervais mentioned that he is glad to see such a positive attitude of the audience. He also emphasized the importance of many intimate letters he received from fans.
Ricky's activities include not only some scenarios and new roles but also an intensive presence in social media. On Twitter and Instagram, he defends animal rights, comments personal life (in particular Gervais makes jokes from life partner – Jane Fallon), and uploads odd selfies from the bathroom or cute photos of his cats. Ricky Gervais focuses also on politics, criticizes celebrities (lately because of their complaining on quarantine), and defends his atheistic viewpoint – he writes subjective essays on this topic. A few years ago he was called the most influential London Twitter user and last year he received Richard's Dawkins award. By watching productions created by Ricky Gervais we can find out something about his sensibility and how exactly the British comic understands the world. Nonetheless, if we'd like to know more about his worldview, the best option would be to introduce ourselves to the snide stand-up Humanity (available on Netflix) and a malicious film called The Invention of Lying (also on Netflix) which is checking on the condition of human behaviour in completely truthful reality. Each of these paths will turn out to be a perfect way to the brilliant mind of Ricky Gervais. That is, to the greater doubt (or believe) in reality that surrounds us.