Every film is ultimately the product of the collaborative creative effort of dozens of people involved with the project before, during, and after principal photography, but the idea has to be born in the screenwriter's head. An assertion like that may seem trivial, but how often do we forget that fundamental premise in our eagerness to ascribe everything good or bad about a movie to its director. Naturally, directors sit at the very top of the production hierarchy, steering and shaping the comprehensive vision of the project, but they don't work in a creative vacuum. Good directors are more than just skilled filmmakers, they know how to surround themselves with talented crew and collaborators.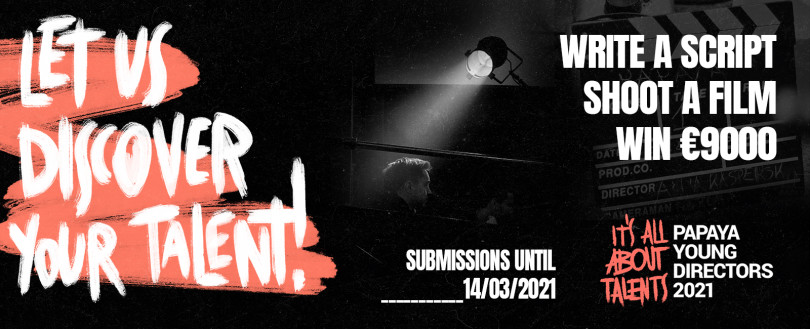 We're fast approaching the kickoff of this year's edition of the Papaya Young Directors competition, addressed to directors and aspiring filmmakers. Good writers who want to make it in the film industry are welcome to try their hand as well. Let's take this opportunity and list ten writer-director whose names will be forever etched in the annals of cinema.
Simon Pegg—Edgar Wright
Writing a good pastiche, particularly one that would properly filter all the necessary genre tropes through the individual tastes of the screenwriters, is not an easy task. But writing a parody that would mercilessly mock the banality of specific productions or even entire industry trends is even harder. However, actor Simon Pegg and director Edgar Wright managed to find a way to walk the fine line between pastiche and parody, and ridicule selected genres all the while paying them a beautiful homage. In Shaun of the Dead, they mocked zombie movies and British stiff-upper-lip attitudes, and breathed new life into the genre with precisely choreographed comedic antics (including the marvelous use of Queen's Don't Stop Me Now). In Hot Fuzz, they subverted narrative and formal police drama tropes, creating one of the best action films of the decade. The World's End, meanwhile, took on the buddy film genre and fused it with the paranoia of alien invasion thrillers.
Guillermo Arriaga—Alejandro González Iñárritu
Screenwriter-director collaborations are frequently driven by the clash of their strong personalities, which may end up spawning ideas that change the art of filmmaking. But these contentious relationships between two highly complementary filmmakers tend to break down, often in highly spectacular manner. That was the case with screenwriter Guillermo Arriaga and director Alejandro González Iñárritu, who began throwing accusations and invective at one another right before the premiere of their final film, Babel. Arriaga claimed that Amores Perros, 21 Grams, and Babel would never pack a comparable emotional punch without his structurally complex scripts, which helped Iñárritu visualize the cultural and human constraints that people impose on their fellow men and women. Iñárritu, on the other hand, accused Arriaga of focusing on technicalities and stressed that without his visual style, the emotional punch of the films wouldn't count for much. The truth, it seems, lies somewhere in the middle, as a film, to paraphrase the proverb, can have many fathers.
Charlie Kaufman—Spike Jonze and Michel Gondry
For over twenty years, Charlie Kaufman has been considered one of the most original screenwriters working in the industry. Although he moved on to directing his own overly complex scripts some time ago, the transition would not have been possible without the creative synergy Kaufman has enjoyed with two other highly original filmmakers. Spike Jonze saw the scripts for Being John Malkovich and Adaptation as opportunities for a reckoning with the frustrating flawedness of human nature and the notion of art driven by existential crises. Michel Gondry, meanwhile, took the scripts for Human Nature and Eternal Sunshine of the Spotless Mind and draped their surrealist interrogation of the innermost thoughts and dark corners in visuals straddling onerous reality and eccentric, dreamlike vision. We can safely say that had anyone else decided to film Kaufman's scripts, twenty-first century cinema would have one fewer auteur.
Paul Schrader—Martin Scorsese
Paul Schrader didn't see his first movie until the age of 17, due to his parents' religious restrictions. After graduating with a BA in philosophy and theology, he earned an MA in film studies and became a film critic, writing for a number of magazines. Then he poured all of those experiences down onto paper, creating a genuine powder keg. Whereas Kaufman needed directors known for their unconventional thinking, resistant to the visual gimmicks and formal simplifications of mainstream cinema, Schrader managed to fulfill his potential because he found in Martin Scorsese a partner who knew how to harness his visual style to Schrader's intellectual and reflective screenplays. If we were to look at the credits the two men share – including Taxi Driver, Raging Bull (co-written with Mardik Martin), The Last Temptation of Christ, and Bringing Up the Dead – we could be forgiven for thinking that no other director would have been able to squeeze so much out of the rich tapestry of contexts in Schrader's work as Martin Scorsese.
Krzysztof Piesiewcz—Krzysztof Kieślowski
Although the partnership between Krzysztof Piesiewicz and Krzysztof Kieślowski was, to some extent, dictated by the creative limitations imposed on the duo by their homeland, it was, first and foremost, a great leap forward in terms of personal growth for the two men. Piesiewcz had years of court battles under his belt, and most of his cases dealt with matters of key importance to the reality of the Polish People's Republic. He also brought unparalleled insight into the mechanisms of power to the table. Kieślowski, meanwhile, while rooted in documentary filmmaking and social observation, had already moved on to philosophically-inflected feature films by the time he and Piesiewicz began working together. They wrote together and grew together as artists. Following their debut, the moving social drama No End, the duo later collaborated on The Decalogue, which marked the beginning of their experiments with form and message, an effort that culminated in The Double Life of Veronique and the Three Colors trilogy. At the time of Kieślowski's death, he and Piesiewicz were working on a follow-up trilogy, Heaven, Hell, and Purgatory.
Diablo Cody—Jason Reitman
If you hadn't noticed, most of the accounts of screenwriter-director collaborations we've compiled here indicate that over the years, both parties of the relationship not only learn from one another, but grow together artistically. The same holds true for Diablo Cody and Jason Reitman. The duo shot three films together, Juno, Young Adult, and Tully. The first is a story of a smart and resolute teenager who finds herself with an unplanned pregnancy and realizes how ridden with illusions and pitfalls the world of adults really is. The second tells the story of a woman turned bitter by her many failures, who still clings to her teenage fantasies. The third is a bittersweet story of a mature woman, forced to reevaluate her old plans and dreams, which ultimately makes her a better mother. Lacking Cody's empathy and the precision with which she's able to express her thoughts, many Reitman's films ride on the edge of emotional kitsch. But when he's working with Cody, he performs at his creative peak.
Christopher McQuarrie—Bryan Singer
While he's now best known as the director behind the latest installments in the Mission: Impossible franchise, Christopher McQuarrie is, above all, one of the best screenwriters to work in the industry in the last quarter century. Renowned for building multilayered, complex storylines, he commands formidable writing skills and has an ear for smart and snappy dialogue. And although most people ascribe the success of The Usual Suspects and the tense storytelling of Valkyrie to director Bryan Singer, much of the credit lies with McQuarrie. The screenplay for The Usual Suspects is so tight that it's hard to find even one superfluous sentence in the whole document, while the Keyser Söze fakeout launched the trend for Sixth Sense-style twist reveals. McQuarrie also doctored the script for the first X-Men, which ended up completely changing Hollywood's approach to comic book adaptations. The duo's only box office failure was Jack the Giant Slayer, but McQuarrie didn't write that script alone.
Robert Riskin—Frank Capra
Let's travel back to the Golden Age of Hollywood for a moment. In the 1930s, Frank Capra was one of Hollywood's best and most recognizable directors. Since Pocketful of Miracles, his films have been bringing in Academy Award nominations by the bucketful, ultimately earning him four Oscars in three years. While Capra understood cinema and audience needs perfectly, his legend actually omits a key driver of his success. His name was Robert Riskin, an acclaimed playwright and ardent liberal, who – in contrast to the staunchly conservative Capra – believed in the intrinsic beauty of the individual, had a talent for witty, smart dialogue and stories interrogating the social and moral shifts taking place in America. Without him, Capra would have never made It Happened One Night, You Can't Take It with You, or Mr. Deeds Goes to Town. In the end, in a bout of jealousy, Capra severed ties with Riskin.
Jim Taylor—Alexander Payne
The creative partnership between Jim Taylor and Alexander Payne, on the other hand, was a completely different affair. Although today Payne is mostly known for bittersweet comedies examining the many faces of humanity, like the minimalist Nebraska or the reflective drama The Descendants, the truth is that much of his early filmography was made of biting satires against broadly conceived Americanness. In Citizen Ruth, he explored extreme positions on abortion, while Election lambasted the abursdities and toxic nature of politics. Taylor, who helped Payne shape his filmmaking voice, worked with him on both of these titles (curiously enough, both Taylor and Payne were involved with the screenplay for… Jurassic Park III). Taylor also co-wrote the script for About Schmidt with Payne, and the film proved a turning point for the director's career. They followed it up with one of Payne's biggest films, Sideways. They parted ways soon after, only to rejoin forces for Downsizing, released in 2017 to little fanfare.
Tobias Lindholm—Thomas Vinterberg
To counter the overrepresentation of English filmmakers and screenwriters on the list, we'll cap it off with a Danish duo poised to make quite the splash with their upcoming alcohol- and human imperfection-fueled comedy drama Another Round. In the four screenplays they co-wrote, Lindholm and Vintenberg put ordinary protagonists in difficult or even traumatic situations, as if to measure their reactions. The setup worked best in The Hunt, which tells the story of a teacher accused of sexual harassment, while Submarino and The Commune serve as interesting example of socially-engaged humanist cinema. Curiously, Lindholm also has a career as a director, but his solo efforts veer toward darker genres: the premiere of Submarino coincided with the release of his directing debut, R, while A Hijacking was released the same year as The Hunt. Damn good films, all of them.