We speak to the directors of Fairy Tail – a short film which will be screened at Papaya Rocks Film Festival.
Your film will be shown at the inaugural Papaya Rocks Film Festival in London, what does taking a part in this event mean to you?
We're thrilled to have Fairy Tail screen at Papaya Rocks Film Festival. Sharing our film with a new audience and being selected from a vast number of submissions is a great honour.
Do you think nerves will set in closer to your screening?
Both of us have a theatre background, so the nerves that typically come before a live performance are quite similar to those related to the screening of our film. Connecting to our audience is crucial. We want the viewers to laugh and enjoy Fairy Tail. We can't change our timing mid-performance, so we buckle up and eagerly wait for the audience to respond. Somebody once said, "If you're not nervous, it's not important to you." No doubt, our hearts will be pounding when the cinema lights dim!
Tell me a little bit about your work. How did this film come about?
We're a couple that have been creating films together for almost 20 years. We began our creative partnership in the theatre preparing 6th grade middle school productions. It was in the theatre that we began sharing the love for music, dance, and quirky comedic writing. Inspired by The Muppets and other puppetry techniques, Fairy Tail incorporates specific aspects of filmmaking that we love, like using off-screen space, the ability to change speed, and well-timed punchlines in the edit.
What was the inspiration behind your screenplay?
With only 6 lines of dialogue and 14 words in total, Fairy Tail screenplay is written mostly through action and dynamic situations. Many of our previous films are based on the dialogue, so this time it was a real effort to refrain from it. In the end, we're happy that we stuck to our self-imposed challenge to write a minimal dialogue script. It's a classic case of "less is more".
What was the hardest scene for you to film?
There wasn't a specific scene that was particularly difficult for us to film, but the overall logistics of shooting in so many locations with a tight schedule required some time-efficient filmmaking. Thankfully, our crew was composed of pros that kept us on schedule without sacrificing the quality.
What were the biggest challenges you faced making this film?
Directing puppets was a new challenge for us. Fortunately, we had a professional puppet team that was open to our direction, but politely advised us when their arm just couldn't move in a certain way for camera. Directing puppeteers was an amazing experience and we're looking forward to doing it again.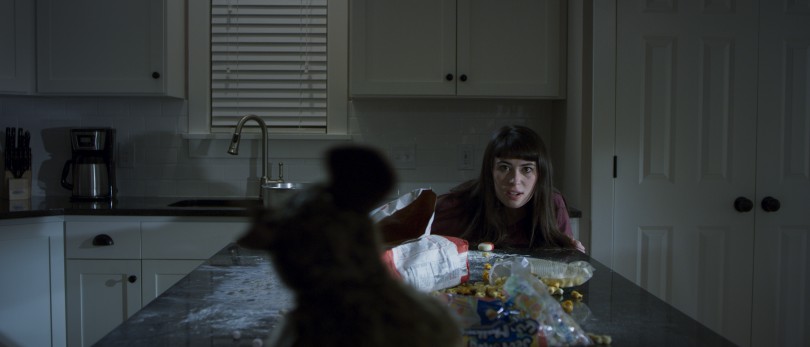 Have you always wanted to be filmmakers?
Both of us always wanted to tell stories. In middle school and high school, we both sought a path in acting or performance. With the initial intent to have something to act in, we started making films and quickly discovered that our love for directing films superseded our love for performing in films.
As filmmakers, how important is the collaborative process for you?
Being a directing duo is sometimes a difficult relationship to understand for some people. Fortunately, we both share one creative mind that allows us to divide and conquer on set. We could be standing at the monitor together, and immediately after calling "cut!", without saying a word to one another, we'll split up giving directions to different people on set. We inherently know that the other person told the team the non-conflicting tips. We can direct in half the time! We also surround ourselves with talented and fun people that we trust. A positive attitude on set translates to a better film.
How much has your approach to your work changed since your debut short film?
Our first short films were made with VHS cameras in middle school – so from a technology standpoint, our films have changed massively. Ultimately, we've retained our sense of childhood shenanigans, and remaining playful as well as imaginative. The result is often stories that make the absurd feel real and funny.
Do you have any advice or tips for a fellow filmmaker?
If you're an experienced filmmaker, keep creating. We all have different backgrounds, so every filmmaker has a unique voice that should be heard or seen.
If you're new to filmmaking, start creating. If you have access to a cell phone, you also have access to a camera. So much of our personal filmmaking knowledge comes from the experiences we've had throughout the years.
What are you currently working on?
We live in the cold state of Minnesota in the United States. In the winter production slows down, so we take the opportunity to write new projects and do a bit of hibernating. We have multiple feature-length scripts that we're working on and preparing ourselves for a few short films. Think jazz hands and step-ball-changes. 2019 is going to be a blast!
What do you hope people will take away from your film?
Fairy Tail is a lighthearted film that's meant to make the audience smile. As comedy storytellers, we have the unique opportunity to bring joy and, if necessary, a respite. It's almost spiritual; to make someone laugh is a way to connect with someone's soul. Whether it's a full-throated howl, giggle, snicker, chuckle, chortle, snort, or guffaw, they're having an involuntary physical response that cannot be contained. Connecting with someone through a joke or situation is akin to a superpower.